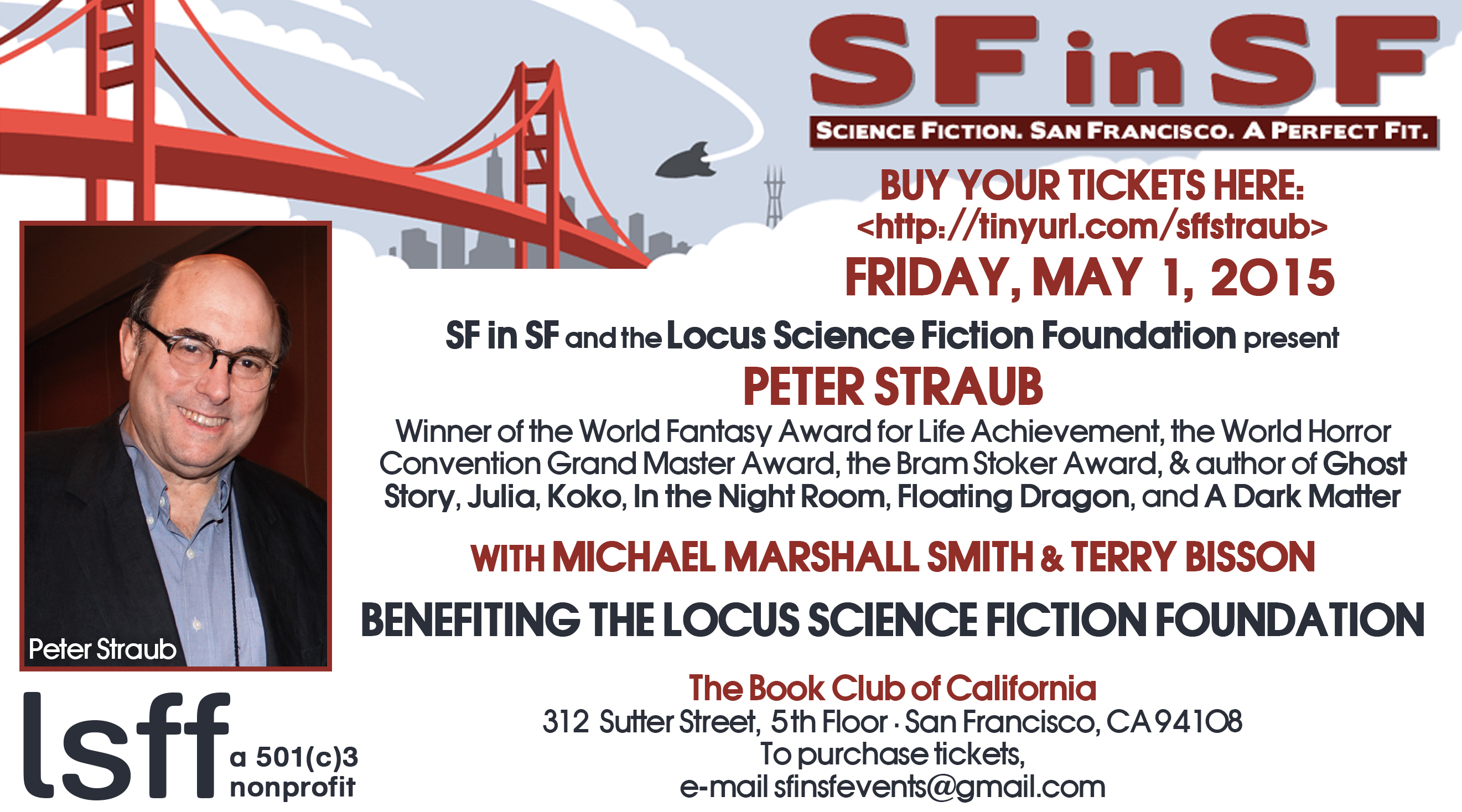 SF in SF presents AUTHORS 

PETER STRAUB

& MICHAEL MARSHALL SMITH
in readings, and conversation with author

Terry Bisson
Friday, May 1, 2015
Doors open 5:30 p.m.
Event begins promptly at 6:30 p.m.
Location: The Book Club of California at 312 Sutter Street, 5th Floor, San Francisco CA 94108
Advance Tickets: $20 general, via Brown Paper Tickets
At the door: $25
All ticket proceeds benefit the Locus Science Fiction Foundation, and the Book Club of California
Refreshments for sale at the venue
Books by all authors will be available for sale, courtesy of Borderlands Books
Each author will read a selection from their work, then join Terry Bisson in conversation and Q&A with the audience. Book signing follows; please feel free to bring your books from home for signatures. (3 books at a time, then back in line.)
ABOUT OUR AUTHORS:
PETER STRAUB is one of America's foremost authors and a poet. His horror fiction has received numerous literary honors such the World Fantasy Award for Life Achievement, the World Horror Convention Grand Master Award, and the Bram Stoker Award. He edited the Library of America volume, H.P. Lovecraft: Tales (2005), and is known for his books Ghost Story, Julia, Koko, In the Night Room, Floating Dragon, and A Dark Matter, among others. Learn more at his website, at http://peterstraub.net/.
MICHAEL MARSHALL SMITH is a recent transplant to the United States and the Bay Area. Originally from England, he is a novelist, screenwriter, and short story writer who also writes suspense as Michael Marshall. His first published story, "The Man Who Drew Cats", won the British Fantasy Award in 1991 for Best Short Story. His first novel, Only Forward, won the August Derleth Award, and the Philip K. Dick Award. He runs Ememess Press, focusing on producing his ebooks, and was the Co-Chairperson for the World Fantasy Convention held in Brighton in 2013. Learn more about this multitalented author at his website, at http://www.michaelmarshallsmith.com/.
TERRY BISSON has been the moderator of SF in SF since it began in 2004. He founded the KGB Bar readings in NYC, and has a wide selection of writings in science fiction, among them the enormously popular "They're Made Out of Meat" and "Numbers Don't Lie". His most recent book is Any Day Now, from Overlook Press. His amusing blog is at his website at http://www.terrybisson.com.